TFF Forum
TRIPOLI FILM INDUSTRY DAYS
MESSAGE FROM THE ORGANIZER
FATMA RACHA SHEHADEH | Forum Coordinator
Networking is an excellent source of new perspectives and ideas. Since the launching of TFF Forum in 2016, we noticed the positive effects this forum has had on the new generation of filmmakers on a national level.

From exchanging information on challenges, experiences and goals in the cinema field, the TFF Forum allows the filmmakers to gain new insights on the film industry in Lebanon and the Arab world. Our goal is to facilitate the connections between the filmmakers especially in Tripoli and Lebanon, and the Arab world.

This year, I'm very happy to welcome you to an exceptional edition of the TFF Forum where we hope you, our guests and attendees, will leave with new friends, colleagues, and the support needed for your film projects.
TFF Forum is the Film Industry Days of Tripoli Film Festival.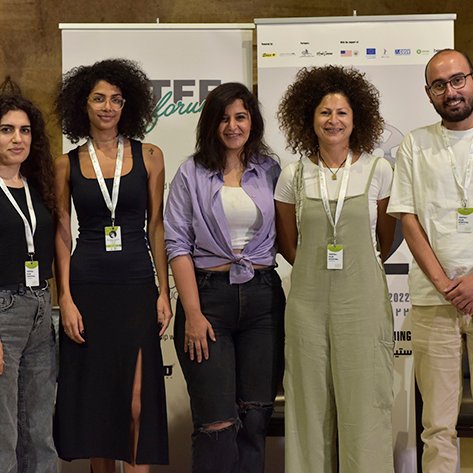 Pitching Platform
As part of the TFF Forum (Tripoli Film Industry days) the Pitching Platform will take place during the 10th edition of Tripoli Film Festival. The TFF Pitching Platform gives the chance to Arab SHORT Films in Production and Post-Production to be supported to complete their short films.

Out of numerous projects submitted, only 5 will be selected to pitch their projects in front of a jury of professionals who will choose the winners to receive cash and in-kind awards.
The winners will be announced during the closing event of the TFF Forum.
The call for projects will open soon.